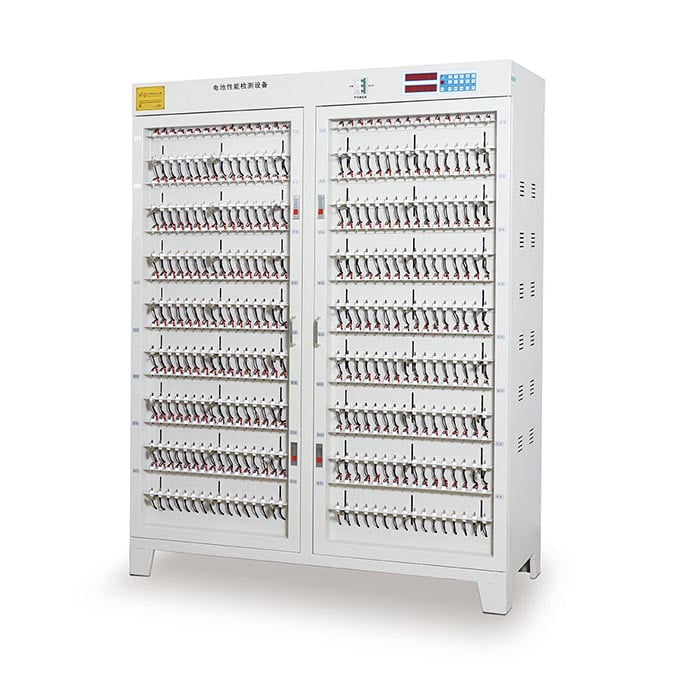 Introduction of
Capacity Grading Machine
Capacity grading machine, is not only the very first machine to charge new-made lithium-ion cells (which is called formation), but also the first machine to grade and sort cells before making a lithium-ion battery pack.
By running cycles of CV-CC charging, rest, CC discharging, rest, then again CV-CC charging, this capacity grading machine can measure multiple parameters of each cell, like capacity, open-circuit voltage, cut-off electricity consumption…etc.  After sorting all cells with certain criteria, we can use those cells with closest electrical performances to assemble battery packs. Only then we can maximize capacity and lifespan of the battery pack.
This machine adopts modular design and has a total capacity of 512 points. In other words, it supports grading maximum 512 cells by one time of running. In addition, with adjustable cell holders, it can support various sizes of cylindrical lithium-ion cells, including 18650, 26650, 21700, 32650…etc.
Moreover, it can work offline independently with embedded microcomputer units (MCUs) on each machine, or be controlled by separate computer after connecting them via serial port. And one computer can control max. 10 units of machines, so it is perfect for mass production demands.
Technical Specification
Input voltage:                                          AC380V~420V, 50Hz (Note: Other voltages can be customized.)

Max. power consumption:                    18KW

Measurement Capacity:                        512 points

Constant voltage range:                        DC 3.8~4.3V

Constant current range:                         DC 0-3A

Voltage measurement range:               DC 0~5V

Voltage measurement resolution:        1mV

Current measurement resolution:        1mA

Time measurement range:                    30000min/step

Time measurement resolution:             1s

Product Dimension:                                 1600 x 1840 x 500mm

Net Weight:                                                about 200kgs
Machine Features
Embedded multiple protection function to ensure safety during charging/discharging circles, including over-voltage protection, power leakage protection, over-temperature protection

Fast sampling speed, can keep patrolling in up to 14-seconds intervals

Can work offline independently or be connected & controlled by separate computer. One computer can control max. 10 nos of equipment.

Visualization system on both machine and computer sofeware, easy to operate

Automatically record multiple electrical parameters in every charging or discharging step, including open-circuit voltage, average voltage, cut-off voltage, cut-off capacity, cut-off electricity consumption, cut-off current….etc.

Able to grade cells with multiple characteristics, such as capacity, open voltage or average voltage at any specific steps, time to reach certain voltage at specific steps…etc

Measurement data, charging/discharging curve and statistics can be saved, displayed or printed

Modular design, reliable and easy to maintain