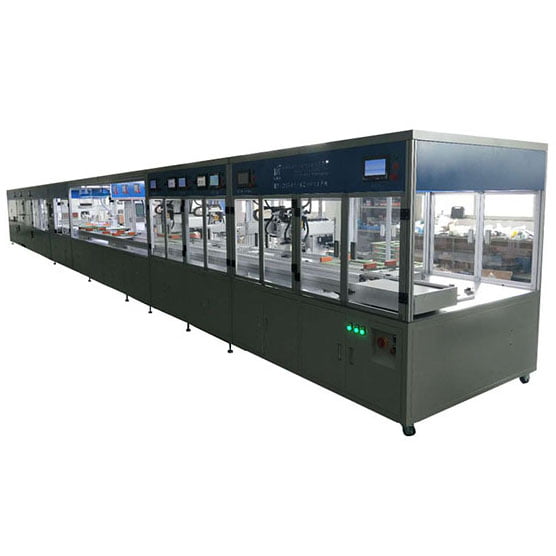 Introduction of
Automatic Li-ion Battery Pack Production Line
Automatic Li-ion battery pack production line, is an automated assembly line from cylindrical li-ion cells to semi-finished li-ion battery packs which are ready to connect with BMS.
This automatic li-ion battery pack production line incorporates below assembly processes into one.
Feeding cells
Pasting insulation gaskets
Bar code scanning
Sorting cells with voltage & internal resistance
Arranging cells
Inserting cells into fixtures
Positive/Negative end inspection
Cleaning
Spot welding
Taking out semi-finished battery pack
This automated battery pack production line is highly efficient and it can handle 5000~6000 cells per hour. Moreover, it minimizes the quantity of workers and entire production line only needs 3 standby workers, so it's an ideal solution for those areas with very high labour costs.
In addition, this automatic battery pack assembly line can be adjusted and customized according to customers' requirements.
Technical Specification
Input Voltage:                                          AC 360~420V, 50Hz (Note: Other voltages can be customized.)

Max. power consumption:                     30KW

Applicable cells:                                       Cylindrical lithium-ion cells like 18650, 26650, 21700, 32650…etc.

Applicable nickel plate:                          pre-cut nickel plate, with 0.1-0.3mm thickness. (Note: Nickel plate with 0.21-0.3mm thickness need be notched before use. )

Max. producible product size:             430mm x 270mm

Pneumatic Pressure:                              0.4-0.8Mpa (Note: Filtering device must be deployed to ensure there is no water or dust in the air supply. )

Productivity:                                              about 5000 ~ 6000 cells/hour

Product dimension:                                 16500 x 1500 x 1760mm
Machine Features
Automated assembly line from individual li-ion cells to semi-finished battery packs

Highly efficient, capable of handling 5000~6000 cells per hour

Yamaha robots to place the cells into fixtures with reliable performance

With CCD inspector from HKVISION to check the placement of positive/negative ends

Adjustable to fit battery packs with different distances between cells